Welcome to our Interior Design page. Here you will find all the information you will need about the services we offer. 
Virtual E-Design Service
£100
This service is perfect for people who have a small budget and would like to complete the work for themselves but just need a little help bringing it all together. 
You'll receive:
1. An electronic mood board.
2. A zoom call to discuss your needs/ideas.
3. Drawings of what the final room will look like. 
4. Colour Schemes.
5. A shopping list. 
What do you need to do?
Complete a questionnaire which will include any ideas or thoughts you have already about the room (this will help inform out first video call).
Send measurements of the room.
Photographs of your space 
Provide me with any other information you think would be relevant for your room design, for example, photos that you might have inspired you already.
A idea of a budget that you have for the room. 
The full package 
£300
Our full design service is for you if: 
1. You have little time on your hands 
2. You want the room completing but would like someone to do it for you.
3. You want a room developed by an Early Years Professional 
4. You want a space to be proud of 
5. You want it to be hassle free. 
You will receive a full Design Service which includes:
• An initial consultation, either at your home or over zoom.
• Complete drawings of your room 
• Creative mood boards 
• Sourcing list of suppliers 
• Order for all products with be delivered straight to you coordinated by me
• I will manage decorating and the building of furniture and accessories 
• I will visit your home (COVID Safe) to style and dress the room from start to finish.  
Playrooms
This was one of my favourite rooms to design. Playrooms can be messy with the amount of toys children have but with simple storage solutions they can become the favourite room in the house. This room was designed using a variety of products which I sourced from a range of places to bring value for money.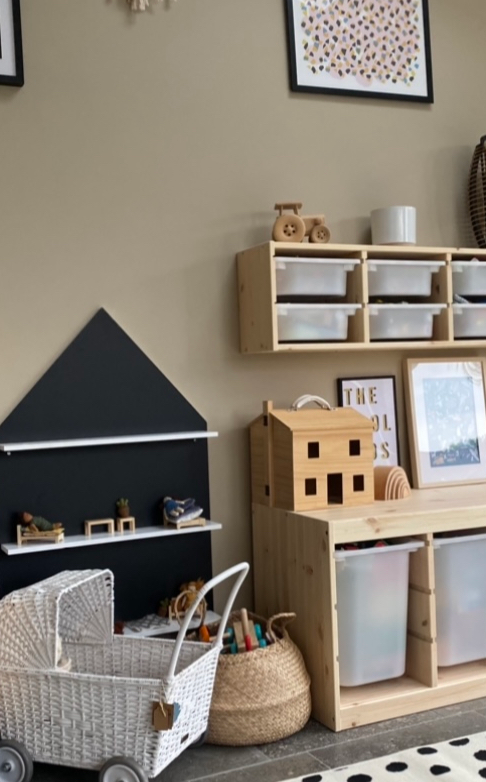 Bedrooms
This bedroom just needed a little refresh. We designed the room together picking out the colours  and ideas that they already had. I painted half the wall pink and left the other half grey, vinyl dots were added to add texture to the wall. We were able to use a lot of the furniture that was already in the room but just moved it around to make more space. 
Bedroom
This bedroom is my little boy Jude's room. Jude had the basics as we decorated it last year but he needed a new bed. Jude was adamant that he wanted a 'ladder bed' so that's what he got. This bed has created so much room for him to play plus I just used everything else that we already had. 
As much as I dislike plastic toys, Jude plays for hours with his Playmobil so having that out where he could reach it was really important. He also loves to dress up so getting them out the wardrobe has saved my legs a lot as he can now reach them himself. 
GET IN TOUCH
Still have some questions or would like some more information? Contact us on hello@babyandthegang.co.uk